Sister Susan Debnath
Susan received her Master degree from Singapore Bible College and returned to serve in her homeland, Bangladesh. In spite of a job offer to work as a principal of a school, Susan obeyed the Lord's call to serve as a missionary instead, doing girls' outreach work and reaching out to women folks living in the slums. As a practical expression of God's love, Susan has started sewing and language classes as part of her outreach efforts. Besides this, she is also involved in equipping ministries in church and bible school settings.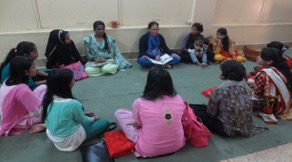 X-Pact's executive committee members, Mr Elango(right) and Ms Ann Ng (centre) visiting Susan to provide pastoral care for her.
Sis Susan offering love and care in a slum tailoring learning class as a practical means to build bridges for the sharing of the gospel.